2023 Founders Achievement Recipient - Dr. Aleesia Johnson 1995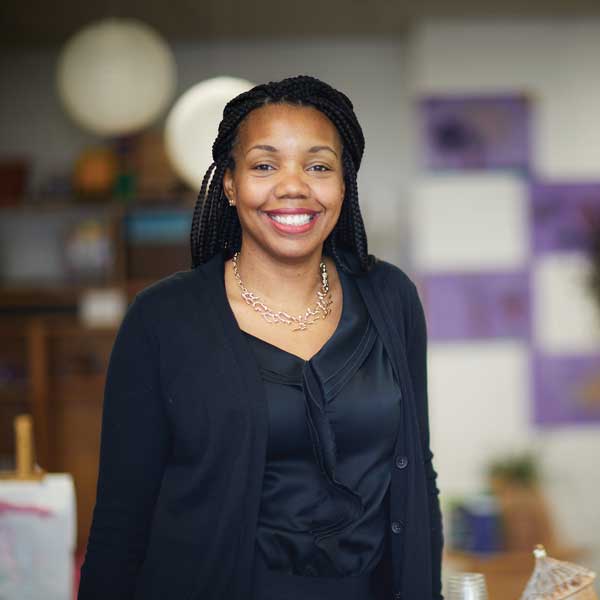 Dr. Aleesia Johnson serves as superintendent of Indianapolis Public Schools (IPS), the largest district in Indiana serving more than 30,000 students. Named superintendent in 2019, Dr. Johnson has entered her second decade of service as an educator, achieving success as a teacher, school leader, and administrator in both public charter and traditional district schools. She is the first Black woman to serve as superintendent in Indianapolis Public Schools.
A native of Evansville, Indiana, Johnson comes from a family of educators, including her mother, who is an elementary school principal, her grandfather, who was one of few African American administrators in the Evansville area during the 1970s and 80s, and her grandmother, who worked as a high school classroom assistant. Growing up in her mother's middle school classroom, Dr. Johnson began her career as a 6th-grade Science and Social Studies teacher.
Dr. Johnson holds a Bachelor of Arts degree in psychology and African American studies from Agnes Scott College, a Master of Social Work in children and youth and community organizing from the University of Michigan, a Master of Arts in secondary education, and a Doctor of Education in educational leadership, both from Oakland City University.  
Dr. Johnson believes deeply in service, not only to the students and families of IPS but also to the broader Indianapolis community. She demonstrates this belief through her membership on several local organizational boards, including The Arts Council of Indianapolis, the Indianapolis 500 Festival, the IUPUI Board of Advisors, and the Board of Trustees for Ivy Tech Community College, Indianapolis Campus. She serves on the advisory board at Harvard University's Center for Education Policy Research and is also a member of the Aspen Superintendents Network, as well as Chiefs for Change, a national advocacy organization of state and district education leaders. Dr. Johnson is privileged to also be an active member of Alpha Kappa Alpha Sorority, Incorporated.