Day School Gives Back to Local Hospitals during Annual Gala Event
Student artwork by Danielle Goebel `20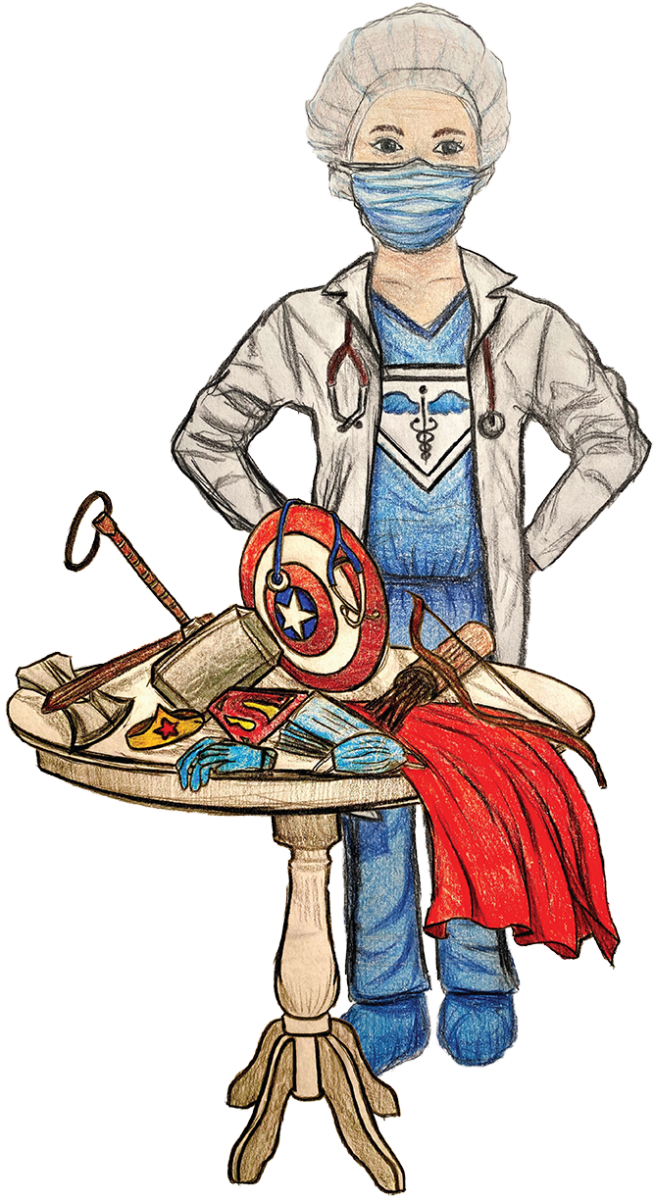 Evansville Day School is raising money for three local hospitals through the school's upcoming online fundraising event, EDS STRONG Online Auction & Fundraiser (April 18-25).
Like many local non-profit organizations, Evansville Day School hosts a spring event to raise money for its continued academic programming. This year, with a stay at home order in place due to COVID-19, the school is opting to hold an online auction and invites the public to participate in bidding. 
"Our annual galas are a pretty big deal. We are so fortunate to have a number of businesses and corporate sponsors invest in this annual event. It is also meaningful for our community to gather in celebration of our school and its amazing teachers. We are going to miss not coming together in person this year, but we hope to connect with everyone through remote bidding and fun on social media," says Advancement Director Leah Whitaker. 
The week-long EDS STRONG online auction, which opens at midnight on Saturday, April 18, will culminate with a livestream event on April 25 from 6-8 pm, hosted by guest and friend of the school, Scott Wylie. General proceeds from the event will support Day School's academic programs, teacher salaries, and facility enhancements for the 2020-21 school year. 
Additionally, the school has added a new component, the Healthcare Heroes relief drive. Members of the high school's Student Leadership Council (SLC) are asking parents, grandparents, alumni, and members of the public who participate in bidding to also donate to Evansville's Healthcare Heroes at Deaconess Hospital, St. Mary's Hospital, and Mercy Hospital. Donations can be made through the online auction site and will be given in the name of Evansville Day School. 
Students and teachers are also including hand-written notes of encouragement to medical workers to accompany the funds raised through the EDS STRONG auction. 
Freshman Shriya Naraya, who is a member of the SLC Academic Committee, says, "The Student Leadership Council members decided the most important thing we could do right now is help our local hospitals and medical professionals. We want to help and give back to our community in this time of need. Whatever we can raise for our healthcare heroes will go a long way." 
Moreover, students have rallied the school community through Instagram challenges and video campaigns to raise awareness of the EDS STRONG auction and Healthcare Heroes relief effort. Students who normally don't participate in annual school galas have become personally invested in the success of this campaign and are eager to tune into the livestream event on April 25th and participate in bidding with their families.
Evansville Day School thanks its generous sponsors for contributing to EDS STRONG: Water Street Partners (presenting), Dr. Chris Braden & Jennifer Braden, Contour Fabrication & Mechanical, Brake Supply Co., dPatrick Honda, Sean & Amy Marren, Don & Lori Mattingly, Boston IVF at the Women's Hospital, Woosley Financial, David M. Koch Foundation, Kevin & Carol Goebel, Deaconess Health Systems, The Hollander Group – Baird, and Pet Supplies Plus. 
More information about the EDS STRONG Online Auction & Fundraiser can be found at evansvilledayschool.org/EDS-STRONG. Members of the public are invited to register to bid and participate in the event.