Digital Film Class Produces Local Commercial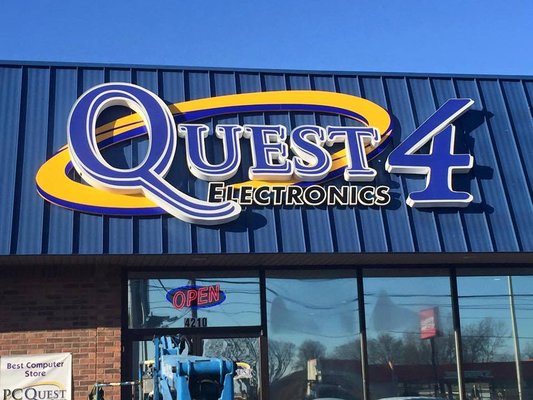 The Evansville Day School Digial Film class was recently contacted by local business Quest4 Electronics about producing a commercial. Quest4 is a locally owned and operated electronics business retailing TVs, Home Theater/Home Entertainment Systems and Home Automation solutions. The class visited Quest4, toured the store, and met with Sales Manager Kevin Prindle to understand what needed to be included in the commercial. Class members Alaina Clements, Lily Shockley, Cecilia Reynolds, and Presley Mohler, class of 2019; Nick Dolzhykov, Edward Liang, and Rich Staley, class of 2017; spent two class periods filming on-site at the store while collecting information about Quest4's offerings and services. They then went to work on a script and held auditions for the voiceover. Current 10th grader, Amanda Wiley, was selected as the voice for the commercial. Then came the editing, which is easily the most difficult part of the process as the abundance of footage had to be reduced into a final 30 second commercial. The class continues work on a longer version of the commercial for use via other advertising mediums. Quest4 was very pleased with the final product and is considering using the commercial for a campaign running at Showplace Cinemas!
This project is a fantastic example of the kind of real-world, hands-on learning that is preparing Day School students to be the global leaders of tomorrow!
View the video here.