EDS Grad Published in Wall Street Journal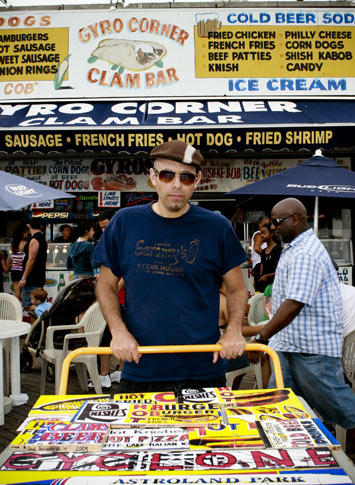 Artist Josh Goldstein '89, was recently featured in an article on the Wall Street Journal website. Josh has enjoyed a successful career since graduating from Evansville Day School.  Here is a brief bio as seen on his website http://www.bodeganyc.com/:
Born in Indiana with Mexican and Jewish roots, Josh Goldstein has long reveled in walking the line between divergent worlds. Though his life began in the Midwest, he maintained an obsession with New York City until he finally moved there in 1993. Once in the city, he quickly began soaking in its cultural stew. He studied architecture at Pratt Institute, made rugelach at a subterranean bakery in Little Italy, worked at a few architectural firms, and co-hosted a public-access TV show comparing the relative merits of Ritz Crackers with apples. Whenever he had a free minute he explored the city on his bike.
On these rides Goldstein photographed everything from Chinese fishmongers and Jamaican patty stands, to graffiti, street signs, and manhole covers. But it was the classic New York City bodega that especially caught his attention in the early years. He was riveted by the bodegas' bright colors, bold graphics, and rotating set of key words, as well as by their entrepreneurial spirit.
Recently, Target commissioned Goldstein to conceive three billboards in Times Square totaling 6000 square feet. He is currently represented by JLA Studios in Brooklyn, and has also been represented by Galerie Geraldine Zberro in Paris. His multi-paneled collages hang at the corporate headquarters of Vitamin Water and Credit Suisse First Boston, in the main branch of the Bronx Public Library, and at WNYC's Greene Space, as well as numerous private collections throughout the United States, South America, and Europe.
He received a Bachelor of Architecture from Pratt Institute, and a Bachelor of Arts from Washington University in St. Louis.