Evansville Day School Student Recognized by 911 Gives Hope for Fundraising Efforts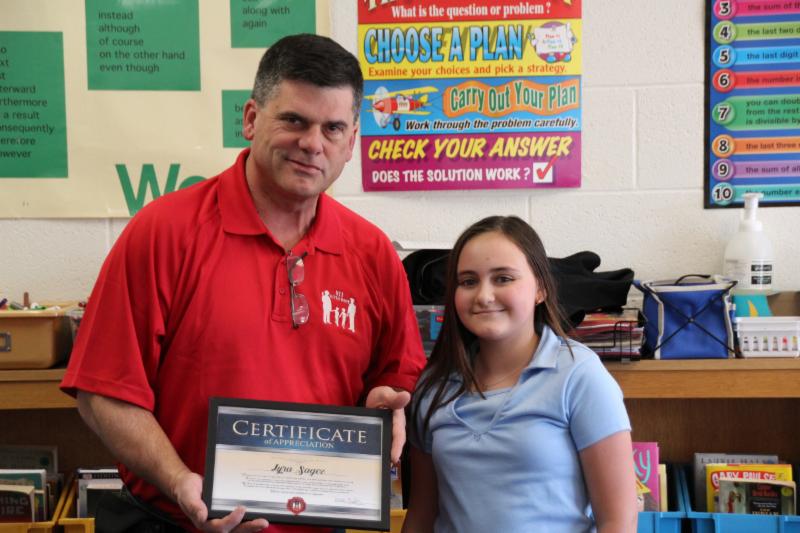 Evansville, Ind. - Lyra Sagez, a fifth grader at Evansville Day School, was recently presented with a certificate of appreciation from 911 Gives Hope for funds she donated from her school Giving Project last year.
Each year, fourth graders at Evansville Day School participate in a "Giving Project" as part of a classroom learning experience. Students begin with $10 seed money to create a small business to raise money for a charity of his or her choice.
"The Giving Project is definitely my favorite project of the year," said Megan Collins, fourth grade teacher at Evansville Day School. "It is inspiring to see my students getting so excited about being able to help others."
Last year, Lyra chose the organization 911 gives hope. 911 Gives Hope is a group of Evansville area police officers, firefighters and paramedics dedicated to improving the lives of children and people with disabilities in the local community.
"At present, 911 Gives Hope has given away over $1 million in cash and gifts to local charities and individuals," said 911 Gives Hope's Gary Green, who presented the certificate to Lyra. "None of this would be possible if not for the generosity of individuals like Lyra. We applaud her for her hard work and thank her for choosing our organization to be the recipient of her project. We also want to thank Evansville Day School for teaching their students the importance of giving back to the community," Green said.
Collectively, these student entrepreneurs raise thousands of dollars each year for various charities through the Giving Project. Lyra ended up raising $863.90 for 911 Gives Hope last year. Her sister Berkeley is in fourth grade this year and chose the same organization, raising $855.89. Both sisters chose 911 Gives Hope for their charity because Berkeley was given one of their stuffed animals when she was in the hospital, and the comfort it brought made an impact on the whole family.
The entire fourth grade class will present the results of their projects on Tuesday, March 13 from 8:30 a.m.-9:30 a.m. at the Evansville Day School Traylor Atrium. Each student will talk about the business he or she developed and reveal the amount of money raised for the organization chosen. The total amount of money this year's class collectively raised will also be announced. Presentations are open to the public and to the media.