Evansville Day School Teachers Use Sewing Machines & 3D Printers to Help during Pandemic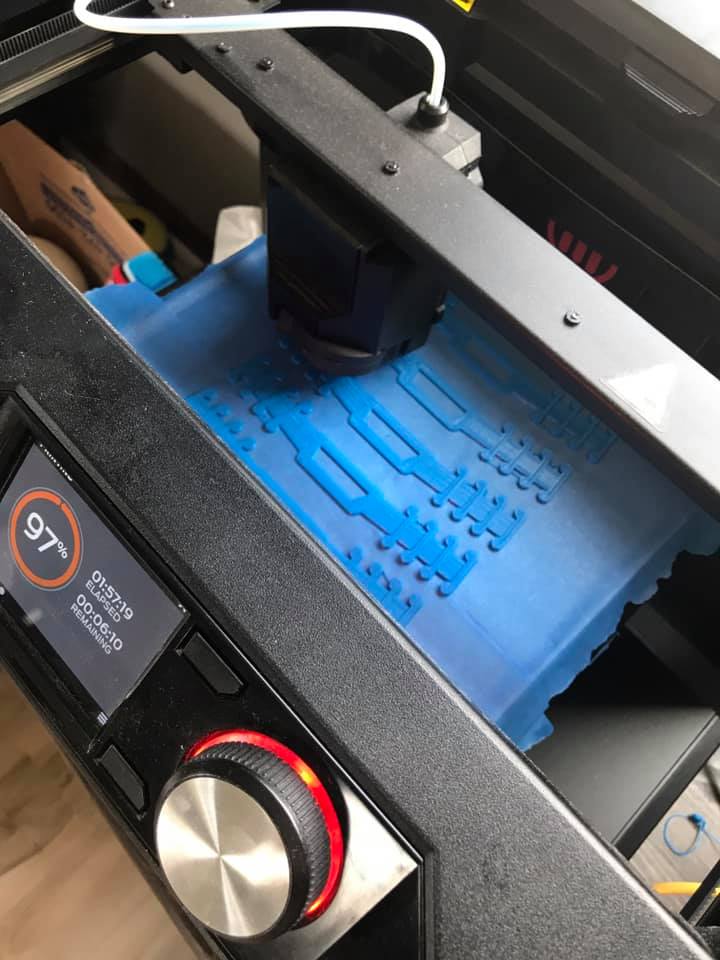 With the school's campus closed for the rest of the year, teachers at Evansville Day School are now running virtual classrooms from their homes. Despite the abrupt transition to remote learning, some of Day School's teachers that have settled into their new normals are finding ways to give back to others during the COVID-19 pandemic - on top of their responsibilities of connecting with and educating their students.
With surgical masks and PPE becoming increasingly critical for healthcare workers around the country, new opportunities for individuals to step up and help are arriving daily. Several weeks ago, like many others, a group of staff members at EDS began sewing masks to support Chemo Buddies and local hospitals from a pattern on the Deaconess Hospital website. With the growing need for masks to be used during essential trips to grocery stores and pharmacies, the teachers turned to making masks, free of charge, for the families of their co-workers, from their own supplies. Primary School science teacher Soi Powell reflects, "The skills that people kind of took for granted like cooking and sewing are now really important skills to have."
Despite an elastic shortage and machines having to go to the shop, the teachers continue to persevere, as teachers do: sharing resources with teachers from other schools who were sewing masks, finding patterns using bias tape, and even using children's classroom sewing machines as backup. Collectively, the Day School group of seamstresses has made hundreds of masks. When their current requests are filled, they hope to turn their attention to nursing homes, Evansville Rescue Mission, and adult group homes who are lower on the priority list for receiving these critical masks.
Another Day School teacher also found a way to give back to the community and our local medical professionals. Technology teacher Eric Sogard has a niece working as a nurse on the front lines of the COVID-19 epidemic in New York City. Seeing her struggles, he was inspired by a story on the news about a Boy Scout who printed surgical mask straps on a 3D printer. The straps ease the discomfort and irritation medical professionals experience behind their ears from long hours of wearing masks with elastic bands. He quickly received permission from Evansville Day School's Head of School to bring home the school's 3D printer to create these for medical professionals here in Evansville.
Sogard began by reaching out to people via Facebook about whether the straps would be useful. Many medical professionals within the Day School parent community responded positively, even recommending a file that would be the most beneficial.
As he began printing the straps and offering them, free of charge, to anyone who wanted them, demand grew rapidly. Another EDS parent and two of his wife's co-workers at AstraZeneca jumped in to help make more on their 3D printers. Eric can now print 10 straps in just under two hours on the school's machine and has turned his operation into a 24-7 production line. Demonstrating the true dedication of a teacher, he shared, "I set my alarm for an hour and forty-five minutes all through the night and wake up to start a new round." Even his own kids have gotten involved by helping cut off the extra pieces of plastic from the printing process to create the finished product.
In just a couple of short days, Sogard has gone from idea conception to already delivering over 50 surgical mask straps to healthcare professionals at Deaconess and St. Vincent's with requests for hundreds more. He has received donations of filament to keep the operation running beyond the demand and is happy to be able to help on top of his teaching responsibilities. "STEM is always about problem solving and coming up with solutions. The best way I can teach that to my students is by doing it myself. I hope stepping up to do this inspires my students to think big and give back to their community too."