Fourth Grade Giving Project wins Sam Featherstone Youth Award - Overall
Teacher Megan Collins Accepts Award at Celebration of Leadership Ceremony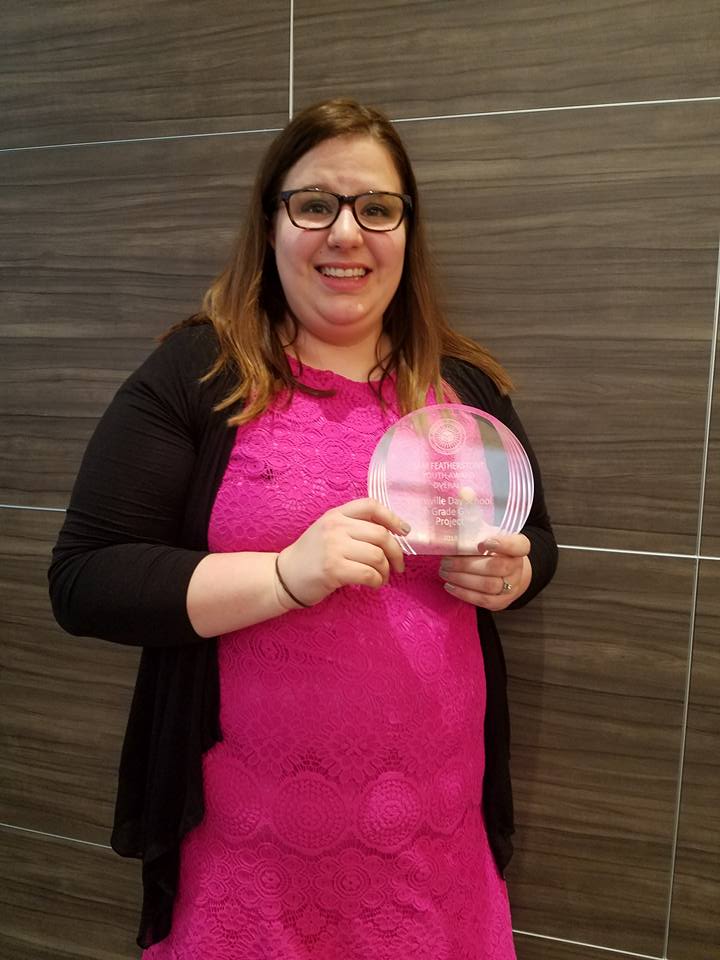 Evansville Day School fourth grade teacher and alumna Megan Collins (Polz) 2008 was presented the Sam Featherstone Youth Award - Overall at Leadership Evansville's Celebration of Leadership ceremony Thursday evening.
Mrs. Collins was selected for the award for the Giving Project she uses as part of her curriculum annually.  Students began the project with a $10 business loan from Legence Bank to create a small business in order to raise money for a charity of his or her choice. They select and research their charities, create a business plan of how they will raise money, execute the plan, then report their results to an audience of families, peers, and community supporters.
Collectively, this year's students raised over $12 thousand, a new record for the Giving Project. Over the past six years, the Giving Project has raised tens of thousands of dollars for a variety of local and national organizations. The students' passions for their charities often continues with them after the project is over, even inspiring some to come up with creative ways to raise money for other organizations.
"The Giving Project is definitely my favorite project of the year," said Mrs. Collins.  "It is inspiring to see my students getting so excited about being able to help others."
Evansville Day School alumnus Marcus Hester 2007, who is on the Leadership Evansville board, presented Megan with the award.
"I'm very proud to present this award to fellow alumna Megan Collins for her incredible work with her fourth grade class," said Marcus. "The Fourth Grade Giving Project teaches these students how to be servant leaders and give back to our community!"
Sponsored by Fifth Third Bank, the Celebration of Leadership is a remarkably diverse and inclusive annual event held by Leadership Evansville. Leadership Evansville seeks out and honors individuals, projects or organizations who make significant, collaborative contributions that improve and transform our community. Celebration of Leadership recognizes examples of outstanding community and public service in the following categories: Arts, Community and Neighborhood, Education, Environment, Government and Public Service, and Health and Social Service.
Evansville Day School is thrilled to celebrate with Mrs. Collins and her fourth graders, both for their success in giving back to our community, but also developing skills such as balance, resilience, global mindedness, and entrepreneurial learning. We look forward to the continuation of this incredible project and thank our partner, Legence Bank, for helping our students make their businesses a reality.