Middle School Speech Success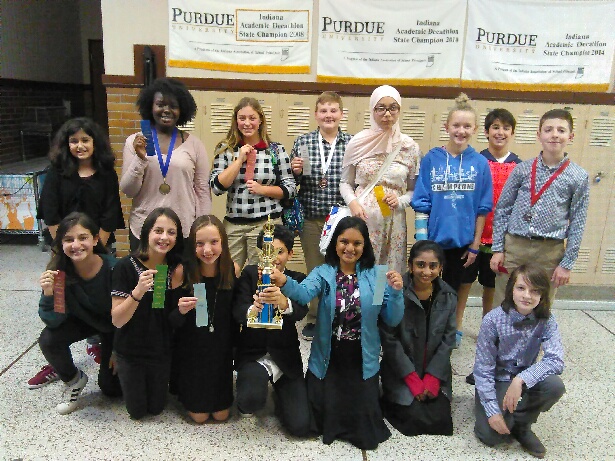 This week, 180 students from 16 area schools competed at the local Speech Tournament. Space is limited, and only the best of the best are chosen to compete. Evansville Day School speech coach Angela Craft selected 14 of the 22 students on Speech Team to compete at Tournament this year. Many categories had 18-21 students competing, with medals and ribbons awarded to the top 10 places. Day school had 7 students place in the top 10 in their categories:
Alayna Rodgers - 1st in Dramatic Prose
Wesley Blalock - 2nd in Impromptu
Marshall Craft - 3rd in Humorous Prose
Camellia Nassr - 4th in Original Oratory
Colleen Meacham - 5th in Poetry
Carter Deppe & Haya Allababidi - 8th in Humorous Duo
Kiley Hamby & Naina Muvva - 10th in Humorous Duo
Overall, Evansville Day School finished strong, taking 3rd in the League and continuing to improve over last year's 4th place finish! Additionally, eighth grader Alayna Rodgers was selected for the coveted "Speaker of the Year" award at Day School. Congratulations to Coach Craft and all of the students for their fantastic work throughout the season. We look forward to celebrating them at Speech Encore Night on November 20!